Compact and reduce your EPS waste
Have you struggled with the disposal of your EPS waste/scrap? The KBM compactors and densifiers with no installation needed reduce all types of EPS containers into low volume bricks; thus reducing the volume 30-40 times!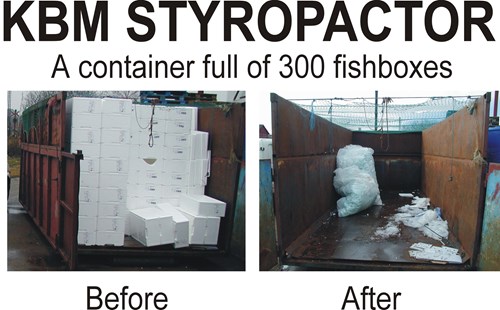 Types of KBM EPS compactors:
KBM offers four different types of EPS (Styropor/Styrofoam) compactors and densifiers - suitable for your specific needs. The following four styropactors include:
Styropactor NANO
Styropactor MICRO
Styropactor MINI
Styropactor MAXI 
You can read more about each individual product on their seperate product page listed above.


Benefits of choosing KBM compactors:
All types of EPS containers can be compacted into low volume bricks
Reduces volume 30-40 times
Large range of machine sizes for all needs
Compacted bricks can be sold to extruders
No installation needed
Hardly any maintenance necessary